Take a glance outside, if your backyard landscape design has a few lounge chairs, a table, and a dusty patio umbrella, it's time to think about an overhaul. You can dramatically increase the visual appeal and value of your outdoor living space by investing in lighting, patio furniture, and the right planter sizes and shapes.
Planters provide a lot of flexibility and allow you to be creative. They may, for example, be moved throughout the seasons to protect your plants, or filled with your favorite evergreens for a contemporary landscape design. Fill them with decorative grasses to create a privacy screen between zones, or use the low-maintenance nature to plant in the interior of your house or different areas of your backyard. There are many planter ideas to explore!
Check Out These 10 Fantastic Deck Ideas To Inspire Your Next Backyard And Patio Improvement.
1. Go For Living Wall Art
Plant walls, in essence, are vertical constructions of greenery growing on a solid wall or fence.
This is an excellent method to transform an empty, boring wall into the center point of any place, particularly when outdoor space is limited.
Indoors and out, simple floor-standing planters allow plants to grow upwards, while wall-mounted planters enable plants to cascade down. Both methods can be used to grow plants vertically.
Arranging raised beds next to a wall is the simplest solution.
While many people use wooden planters, as the wood of the beds will complement the wood of your deck, it isn't the best choice for a professional and modern appearance – such as in a bar or restaurant.
If you opt for a stylish but low-maintenance vertical garden, choose high-quality fiberglass planters, which will not degrade over time and be able to withstand the dampness and strain of a plant wall. This is the usual choice for commercial spaces.
Learn more about 5 plant wall ideas to create a vertical garden with style
2. Use Planters As Space Dividers
Streamlined, rectangular planters can be used as room separators in places without walls.
With two or more planters, you may immediately make a place feel cozier. You may increase the feeling of closeness by using a variety of plants, from modest grasses to large, flamboyant tropical plants.
Think of your deck as a second living room, the same elements that make your interior spaces pleasant, such as cozy furniture, chic accessories, or daring design, may also be present in your outdoor settings.
3. Bad Idea: Bench With Built-In Planters
Classic but not convenient, this deck design includes a simple bench in between two built-in planter boxes, providing a comfortable seating space.
While the color of the bench and planter boxes are also in harmony with the floor space, not being able to move the containers is a major drawback and really limits your backyard creativity.
Try instead using linear planters that can be placed flush with your other furniture to look like built-in planters but are much more flexible.
4. Tiered Wooden Crates With Built-In Planter Boxes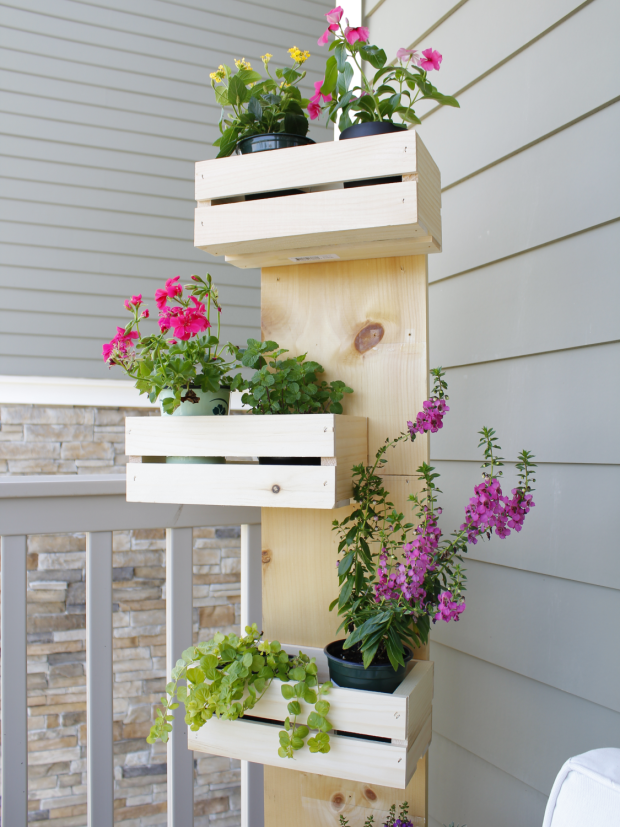 These crate-like planters are simple to make. You may combine shallow and deeper ones and arrange them symmetrically or asymmetrically. Attach them to your patio or deck posts to make a railing, or to your fence posts to soften or conceal your fence.
5. Use A Range Of Patio Planter Boxes
The best thing about using a range of planters is then being able to use a wider range of plants, from small trees to tall grasses.
Arrange planter boxes of varying sizes and heights along the walls and railings bordering the space to give the sense of an outside meadow or garden on an urban apartment balcony or patio, and fill them with dwarf trees, shrubs, and flowers.
Utilize tall plants, trellises, and vines, hanging baskets with vines to screen sections, or use pots to create an urban vegetable garden! Make it varied!
6. Simple Yet Temporary DIY Wooden Planter Ideas
Wooden deck planters are a great option for adding a touch of greenery to small spaces. With the right materials and instructions, you can easily construct your own temporary deck planter to fit your needs.
First, for your outdoor deck planter, you'll need to
Select the wood that best suits your deck design. Use pressure-treated and moisture-resistant wood or cedar lumber
Cut the wood pieces for your specific wooden deck planter design. Secure with nails or screws to ensure a strong foundation.
Once the frame of the deck planter is built, it's time to line it with landscape fabric and fill it with soil.
Finally, you can plant your favorite flowers or vegetables in the deck planter and enjoy its beauty!
So why is this wooden planter temporary? While these containers use natural materials and are healthy for plants and flowers, they are not overly weatherproof and can become a stain on your deck or yard when they start to rot and fall apart (for a better plan, check out tip number 10!).
Newbie gardener? Level up with our article on becoming a better gardener: learn the 3 plant growth stages!
7. Planter Boxes With Climbing Trellis
This kind of deck planter is another option for a location where you want a privacy screen but yet want to let in light and a breeze.
Attach lattice work trellises to the planters and place a row of planters along the area you want to screen. Grow flowery vines or vining vegetables at the back of the planter, with more flowers or vegetables in front.
Want to know more about vines and climbers? check out how to use planters for vines and climbers!
8. Hang Up Your Gorgeous Planters
Your plants do not need to be in the ground to thrive. Try elevating your outdoor plants this season!
If your deck has a trellis, gazebo, or pergola, lucky you! The possibilities are endless. However, if all you have is a ledge or a wall, try lining it with planters! You can have as much fun decorating with hanging plants outside as you can inside, some flowers can grow and spread along with the structure, creating the shade needed for your deck.
Hanging plants recommendation:
Petunias: thrive in partial shade, they bloom most profusely in full sun. When caring for these hanging plants outside in full light, it is critical not to allow the soil to dry up. These plants require daily watering, and in hotter months, twice daily.
Million bells: like Petunias prefer full light to part sun; however, they bloom more profusely in full sun, making them one of the finest plants for hanging baskets in full sun.
9. Bad Idea: Concrete Deck Planters
A DIY concrete planter set looks like a good idea in the photos, but it's not ideal.
Concrete's sleek, contemporary aesthetic is popular for outdoor décor, combining textures, rustic furniture, and accessories with contemporary components.
Let's look at how to make one!
First, make a mold out of plywood for the size of planter you desire and fill it with a quick-setting concrete countertop mix. Use a transparent stain that suits your décor to personalize your concrete planters.
While this flower bed won't tip over in harsh weather and requires little care, they are extremely heavy and not a good idea for moving around the yard or house.
In fact, once these pots are made, it's impossible to show your creative flair and arrange them anywhere else!
10. Make A Major Statement With Stylish Planters
Planters are a great way to add value to any space. Not only do planters provide aesthetic beauty and bring life and vibrancy to an area with the addition of plants or flowers, but they are also extremely lightweight and strong.
For commercial properties with decks, stylish and modern planters create eye-catching displays that will draw attention from anyone who passes by or enters your outdoor space.
For homeowners, incorporate planters into your deck and instantly transform it into an inviting and beautiful space that is a pleasure to be in. Combining different shapes, sizes, and colors of planters makes it easy to create a unique look that will wow your friends and family.
Make sure to pick the right type of plants for the deck or porch planter – from evergreen shrubs to trailing vines – to add plenty of color and texture.
Whether you're looking for something simple and elegant or something bold and vibrant, Planters Etc has the perfect selection of stylish planters to suit your needs.
Don't know which sizes of planters work best for your deck or patio? Have a look at our ultimate guide to plant pot sizes
Get The Look With Our Luxury Planters
See Our Planters Used By Professionals And Homeowners
Learn how you can use planters to create amazing spaces from the Philadelphia International Airport to the Gates Hotel South Beach in Miami.
Decorating Tips For Your Outdoor Space
Outdoor Furniture
A covered deck creates an ideal outdoor living space and for those who prefer being outside, adding outdoor furniture is a great way to create a place where you can blow off some steam while also improving the aesthetic attractiveness of your outdoor space.
Making a pleasant seating area will allow you to enjoy the outdoors and entertain friends more easily.
Sparkling Outdoor Lighting
Bistro lights, often known as string lights, can be used to simulate the night sky. Hang them along the edges of your patio or deck to add sparkle.
String these little lights, which resemble holiday lights, along plants, fences, and decks for a variety of effects. When hosting a dinner party for friends, the addition of small lights may instantly create a joyful atmosphere.
FAQs – Deck Planter Ideas
How Can I Attach A Planter To Deck Railings?
Installing deck railing planters is simple and relatively quick. You'll need your chosen planter (most models come in either rectangular or round shapes), screws, and a drill.
First, measure the width of the deck railing and make sure that the planter will fit securely.
Once you have the measurements, attach 2-3 screws evenly spaced around the circumference of the planter for added stability. Make sure that there's enough clearance between each screw for both safety reasons and for the planter to hang securely.
Finally, attach the screws to the deck railing and adjust as needed.
Or, skip all the steps with our Tiergarden Railings Planter. With a recess designed for hanging on railings, the Tiergarden is the most beautiful solution to dressing up your deck railings with potted plants.
Simply contact our consultant for professional advice on choosing the right railing planter size for your deck.
What Is The Most Durable Planter Material?
Without question, fiberglass planters have dominated the planter industry.
Because they are built of composite fiberglass and resin, fiberglass planters are great for both indoor and outdoor design, as well as having a slew of other advantages such as being lightweight and weather resistant, as well as requiring no maintenance.
Furthermore, using fiberglass planters for both commercial and residential projects can save you a significant amount of time and money.
Read on to learn why fiberglass planters are preferred by landscapers and homeowners
Level Up Your Property With Planters Etc
There should not be any hesitation when it comes to designing your deck since it is the first thing guests see when they arrive.
With our 10 deck planters ideas, you'll be able to provide a warm and welcoming first impression.
Create your planter garden with ease with Planters Etc. Shop our collection of commercial-grade fiberglass planters, they come in a large variety of shapes from globes to rectangles, with sizes suitable for tabletops or large statement pieces, and in many colors and finishes to complement your design preference. We promise only high-quality pieces, and thus each of our fiberglass planters comes with a three-year warranty.
Shop with us today and let your deck planters' dreams come true.